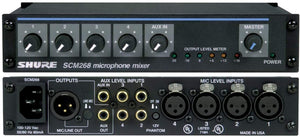 Shure
Shure SCM268 4-Channel Microphone Mixer, 6 Transformers, Phantom Power and IEC Power Cord Connector
Regular price
$315.00
$248.12
Unit price
per
DESCRIPTION
Five unbalanced aux level inputs (Phono connectors)

LED peak output meter

One unbalanced aux level output (Phono connector)

IEC power cord connector

12V phantom power for condenser microphones
From the manufacturer

SCM268

Shure 4-Channel Microphone Mixer, 6 Transformers, Phantom Power with IEC Power Cord Connector
Six transformers provide protection from RF interference for exceptionally quiet performance.

Six Reasons the SCM268 Is The Right Choice:
Transformer. Transformer. Transformer. Transformer. Transformer. Transformer. The competitively-priced SCM268 microphone mixer features six transformers inside: four transformer balanced XLR microphone-level inputs, one transformer balanced XLR mic/line output, and one internal low stray field, toroidal power transformer.

Many Benefits, Little Space
All those audio transformers provide protection from RF interference, prevent ground loops, and make the SCM268 exceptionally quiet. The internal toroidal power transformer means you no longer have to deal with that annoying wall-wart. Add to this a rugged half-rack chassis - with exceptionally solid rack mounting hardware - and the SCM268 will easily fit into the widest range of smaller applications, such as: meeting rooms, houses of worship, broadcast, educational paging and public address, and sound system rental. For over a generation, Shure mixers, as well as a host of other Shure products, have been chosen for installed sound applications with unparalleled peace-of-mind. The SCM268 continues this tradition of quality performance at a great value. If you want half a dozen transformers in a half-rack space, choose the SCM268.

Features:

Five unbalanced aux level inputs (Phono connectors)
LED peak output meter
One unbalanced aux level output (Phono connector)
IEC power cord connector
12 volts phantom power for condenser microphones
Built-in low cut filters on mic inputs
Unit fits into a half-rack space and includes all the necessary rack mounting hardware.
---